Ideal Central Location!
across Scotland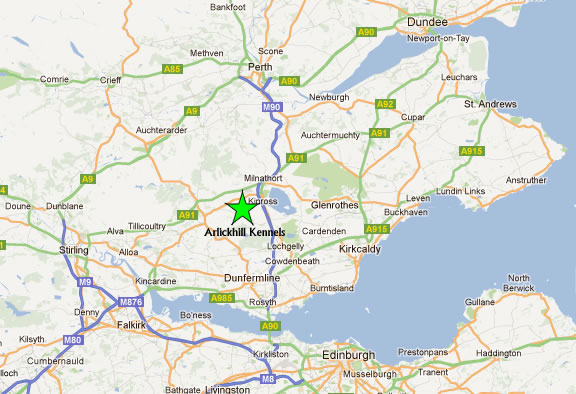 Ideally located for Central Scotland
We are situated in an ideal central location suited to customers from the Central and Eastern areas of Scotland , we're not too far from the cities of Perth, Stirling, Edinburgh or Dundee.We are very fortunate to have a suitable central location for our Licensed Dog Boarding Kennels. Thanks to the comprehensive road networks leading to Kinross-shire, Arlickhill Boarding Kennels is only a short drive from any of the major cities in East Central Scotland such as Perth, Edinburgh, Stirling and Dundee.
A guide to distances and journey times from the Tom Tom Satellite Navigation System:
17 miles from Perth along the M90 taking 20 minutes.
22 miles from Stirling taking 25 - 30minutes.
22 miles from Edinburgh via the M90 taking 25 minutes.
33 miles from Dundee via M90 and A90 taking 33 minutes.
    Please call us and come visit Arlickhill Boarding Kennels 01577 863381.